POWER MANAGEMENT
The ECO-H system has the ability to provide power and/or store energy through an energy storage device, offering immediate on-demand power. Connecting the ECO-H system onto the AC/DC bus allows for site load leveling, while simultaneously reducing emissions and offering better power quality.
Power factor, voltage imbalance, inrush generated sags and harmonics are common power quality problems that can result in financial penalties and costly electrical equipment malfunctions if left uncorrected. The ECO-H system has a reactive power conditioner designed to solve these problems. It is a high performance power electronic system that responds instantly to power quality events; while providing continuous reactive power correction.
The ECO-H's power management system has the inherent ability to behave as a surge suppressor. ECO-H monitors the AC load and reacts instantly to transients by either providing or absorbing power. This Hybrid Power Management System enables generators to stay at higher load efficiencies without ramping up and down to transient loads.
SOLUTIONS 1 – GRID TIE MODE
ECO-H SYNCHRONIZED WITH UTILITY AND DISCHARGES BASED ON PEAK REQUIREMENTS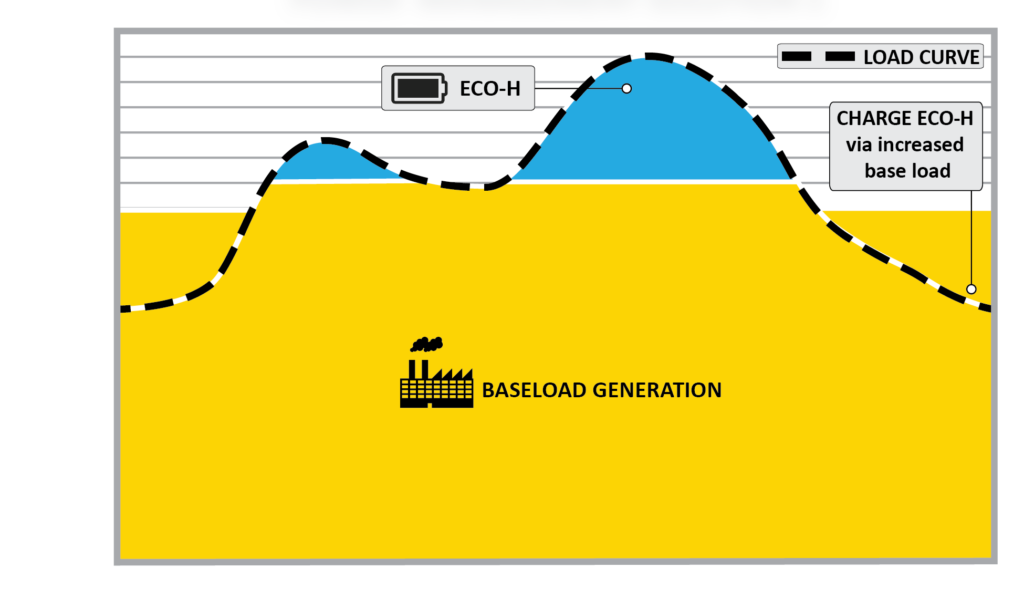 SUPPLY VS DEMAND
Generator(s) provide continuous power SUPPLY for long term applications.
ECO-H was developed for instant DEMAND response, load leveling and improving the power quality.
Large generators are robust and ideal for long term supply of power. They were never designed for demand response and power quality conditioning.
With the use of stored energy, ECO-H is perfect for demand response.
These two systems compliment each other in every case. Where one falls short, the other responds.
SOLUTIONS 2 – GRID TIE MODE
ECO-H SYNCHRONIZED WITH UTILITY AND PEAK GENERATORS AND DISCHARGES BASED ON PEAK REQUIREMENTS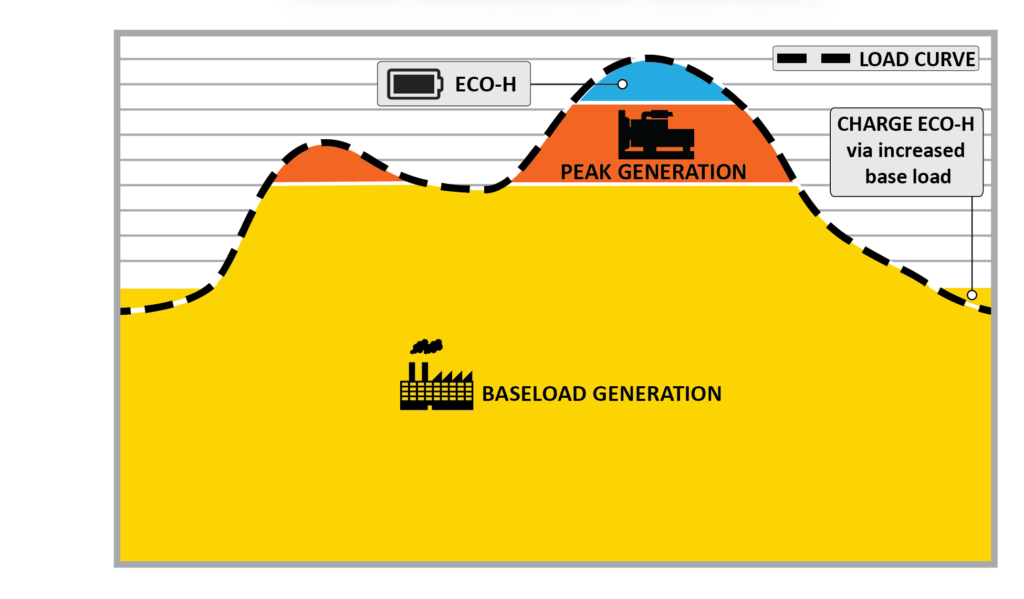 SOLUTIONS 3 – ISLAND MODE
ECO-H SYNCHRONIZED WITH FACILITY GENERATORS AND DISCHARGES BASED ON PEAK REQUIREMENTS