GENERATOR OPTIMIZATION
The ECO-H system load levels generator(s) by analyzing the facility's load. It then processes the information through proprietary algorithms and either discharges to the AC bus bar or absorbs the excess genset power.
This process happens instantaneously 24/7 and allows the gensets to run more efficiently. The sharp peaks and valley power spikes become smoother rolling hills.
As a result, natural gas gensets can now operate at higher load efficiency and reduced costs, without having to react to high and low transient loads.
The combination of ECO-H and natural gas gensets produces a high level of energy stability by providing energy security during peak demand periods.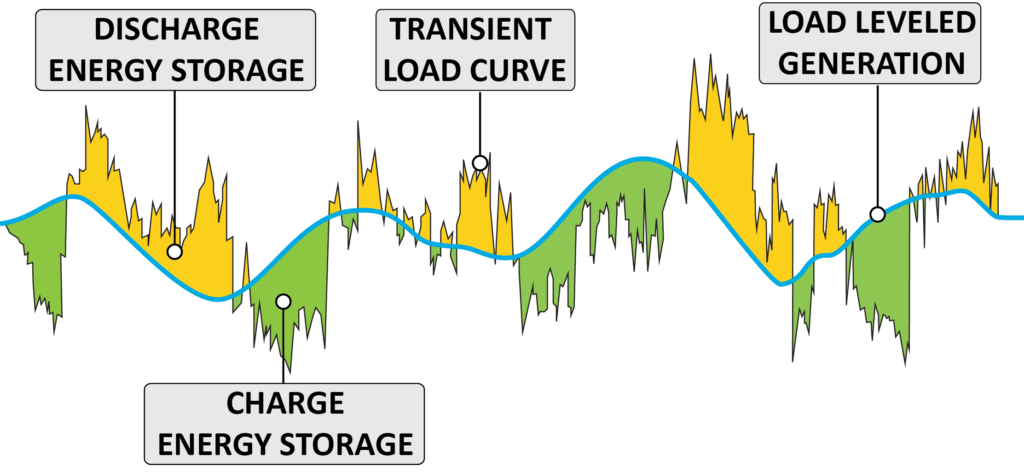 GENERATOR TRANSIENT RESPONSE
WHAT IT MEANS
Diesel and natural gas gensets require time to respond to changes in load.
This type of behaviour results in sudden changes in voltage & frequency causing power instability.
ECO-H responds to changes in load instantaneously, acting as your power quality guardian.
GENERATORS WITH ECO-H SYSTEM
ECO-H is always on 24/7 – 365 days.
GA & Demand Response program anytime.
Facility power quality response all the time.
Long term power outage supply.
Generators are sized for base load.
ECO-H is sized for peak loads.